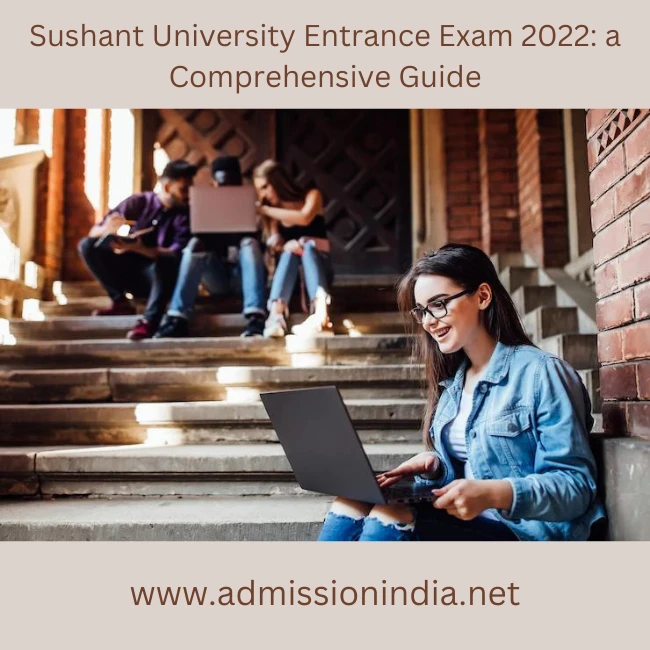 Sushant University Entrance Exam 2022: a Comprehensive Guide
With universities from all over the world participating in its joint research and exchange programs, Sushant University's dedication to internationalization is evident. The students are offered a demanding academic atmosphere with well-equipped lecture theatres, labs, first-rate libraries, and computer networking facilities, in addition to their top-notch teaching team.
In addition to academics, they provide first-rate sports facilities. The hostel's amenities cover our students' cultural and recreational requirements for domestic and international students.
It has eight schools that provide programs in various subject areas, including planning and development, engineering, management, law, and hospitality. The courses at Sushant University are designed to build a foundation for critical research as the world changes swiftly. Some systems require passing results on a Sushant university entrance exam 2022, although admission is based on merit.
The University's many schools provide cutting-edge programs with nationally and globally acknowledged teachers, and they are supported by state-of-the-art infrastructure and facilities that encourage academic success.
In curriculum development and student and faculty collaboration, the University has worked with some of the best universities and institutions in the UK, including the University of Warwick, the University of the Arts at Bournemouth, the University of West England, and Vettel International, France. Specific programs are combined with Ph.D. supervision and exchange, seminars, conferences, and study abroad semesters conducted together.
Dates for the National Eligibility Completion Entrance Test (NEET) 2022 examination are anticipated to be released soon by the National Testing Agency (NTA). According to sources, the test scheduling organization may disclose the exam schedule by the second week of January. However, the date hasn't been verified yet. The application period will run from February 2022 through March 2022.
Benefits
In addition to in-class lectures, students are exposed to new-age skill programs, soft skills and personality training, academic enhancement programs, mentoring programs, and trans-disciplinary learning. Additionally, the entire program structure is IT-integrated.
The Sushant University has ties and connections with Busuu-Barcelona in Spain and the University of Warwick in the United Kingdom. Students at this University can also enroll in certificate programs through the Harvard Business School Online (HBSO).
Students graduating from the School of Business at Sushant University receive training and skills that qualify them for positions such as product manager, sales manager, account manager, brand manager, financial analyst, business development manager, auditor, social media analyst, SEO expert, economic researcher, and training & development manager.
Placements
Some of the best and highest-paid positions are available at Sushant University. This is because only the best and most reputable businesses come here to hire from a wide range of industries.
FMCG, Real Estate, EduTech, Insurance, Investment Banking, Digital Marketing, Consultancy, Chemical Industry, and Hospitality are somewhere students might find employment.
The average salary for MBA students at Sushant University is around INR 6.2 LPA, INR 4.4 LPA for BBA students, and INR 4.6 LPA for B.Com students.
A Master's degree in the relevant field minimum cumulative GPA of 55% or equivalent is the minimum requirement for the Ph.D. Sushant university entrance exam 2022 to the program.
Programs Eligible for Admission to Ph.D. M.Phil. degree with at least 55% marks or equivalent grade and a Master's degree in the relevant field with 50% overall marks