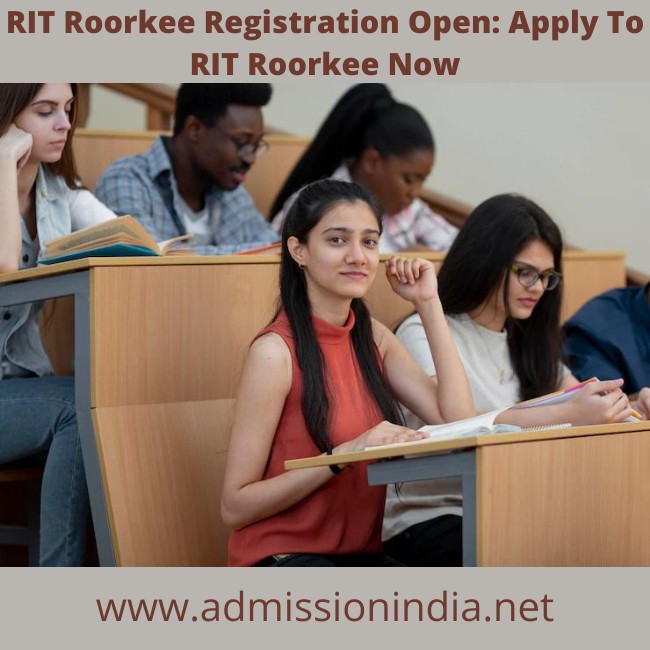 RIT Roorkee Registration Open: Apply To RIT Roorkee Now
The Roorkee Institute of Technology (RIT) has now become a popular institute for science, technology, and management students over the years. The multitude of courses offers here gives each student a chance to explore their skills and create a strong foothold on them through education. Each year RIT Roorkee registration process begins around the same year to offer applicants a chance to apply to the college. Applicants from across India participate in admission tests and interviews. 
Do you want to be part of The Roorkee Institute of Technology? If so, then you must go ahead with the RIT Roorkee registration process. However, if you need more information about RIT Roorkee, then head down.
Courses offered at The Roorkee Institute of Technology (RIT)
RIT Roorkee offers various courses under 4 major schools as mentioned below. 
School of Engineering
Applied Science & Humanities

Civil Engineering

Computer Science & Engineering/ MCA

Electrical Engineering

Electronics & Communication Engineering

Mechanical Engineering
School of Management
Business Administration

Education
School of Agriculture
School of Paramedical Sciences
Medical Lab Technology

Paramedical Sciences
Do you want to begin with the RIT Roorkee registration? Click on the link here and head to the RIT Roorkee registration page. Make sure to fill in the correct information and click the Apply button upon reviewing the information added.
Don't wait any longer, complete the RIT Roorkee registration process to get a chance to be part of one of the best institutes in India.
Your path to success starts here!
Why Should You Apply For RIT Roorkee Registration Process?
RIT Roorkee is approved by AICTE.

The college is Affiliated with HNB Garhwal (Central Govt. University).

RIT Roorkee was awarded the "Best Institute in the field of Excellence and Innovation in Robotics Education" by respected Shri Nitin Gadkari, in 2020.

RIT Roorkee is ranked 5th most promising Institute in India by India Today

The college is Spread over 30 acres of campus and had a world-class infrastructure.

The campus is entirely 4G Enabled.

RIT Roorkee offers 100% Placements Assistance.

It is one of the best colleges with the highest package offered at around 56 LPA.

RIT also offers students with Project Based Internship with "Here Technologies".

The students are offered certification in data analytics from IIT & IIM's.

18 Months Course in Apple IOS Center of Excellence with a part-time job. 

The college is also known to offer advanced certification in Python and Full Stack from IIT Bombay.
RIT Roorkee registrations are now open, apply for a future full of success.
Experiencing Issues During RIT Roorkee Registration Process?
At Admission India we offer you with the best assistance. We can help you choose the best course, offer guidance while filling application forms, and can even more information on various colleges around India. Visit our website to learn more and connect with our experts for immediate help.