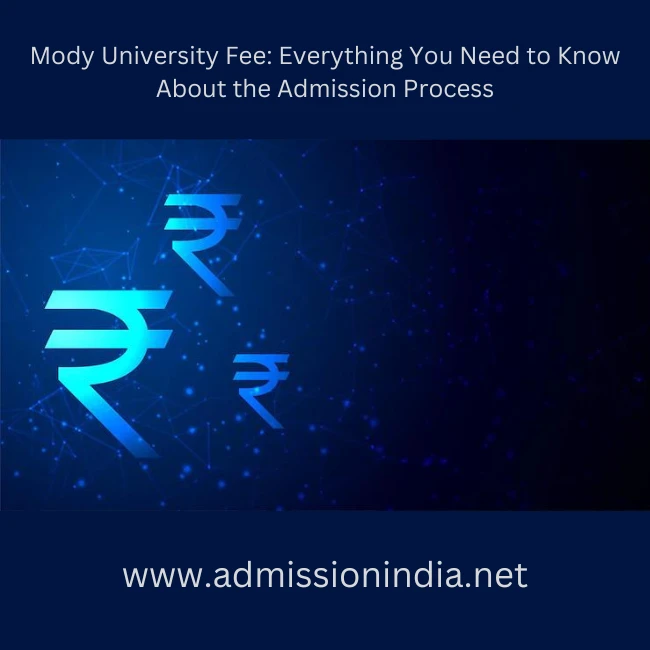 Mody University Fee: Everything You Need to Know About the Admission Process
The Mody University of Science and Technology, founded in 2004, is renowned for offering top-notch instruction in various fields. This includes agriculture, engineering, management, law, fashion, interior design, and physiotherapy subjects.
It is an all-female university that has received approval from the AICTE and recognition from the UGC.
They have the chance to further their education at Mody University, giving them all the resources and support they need. BCI, UGC, and NBA have all certified and recognized Mody University as a university.
It offers undergraduate and graduate programs in several academic fields, including agriculture, engineering, the arts, business management, fashion, law, interior design and architecture.
The facilities of Mody University include both sports facilities and interactive classrooms. Mody University, one of India's top institutions for women, instructs students on how to enhance Indian traditions and culture.
The famed Mody University has opened its doors to new students. Candidates can pick from various courses and quickly fill out the application form online. But some applicants could run into problems or need help with the Mody University Admission 2022 procedure.
According to Times 2020 rankings, the University is placed 90th in engineering. The University offers seven schools that provide courses in a variety of specializations, including BTech, BVA, BA (Hons), BDes, Integrated LLB, Integrated MBA, BBA, BAJMC, BCom (Hons), BSc (Hons), BArch, MSc, MBA, MTech, LLB, LLM, MDes, MCA, and PhD programs.
This University is a private women's institution situated in the city of Sikar, Rajasthan, India. Universities provide applicants with an undergraduate, postgraduate, doctorate, vocational, and technical courses in fields like arts, science, commerce, etc.
Additionally, it provides applicants with integrated programs in law, business and management studies, the arts, commerce, engineering, and technology. The admission process for each of them may also differ.
Admit Card
It is crucial to download the hall ticket in advance of the exam because on the day of the test, students will need to input the admit card number in the appropriate spaces to access the exam room.
Admission card
Undergraduate, graduate and doctorate programs are available to students at Mody University. According to Mody University, admission is awarded based on several national-level entrance tests for various professions, such as JEE Master's, CAT, NATA, etc. Access to the PhD program is based on interview performance and marks obtained on the Entrance Test.
Candidates must submit an application, take the online entrance exam, and get passing marks.
Based on their test results, candidates must submit an application on Mody University's official website.
Shortlisted candidates will then participate in university-level document verification and Mody university fee payment based on their entrance exam scores.
Admissions are granted based on shortlisted candidates' entrance exam results, the verification of their academic credentials, and the payment of the required Mody university fee.