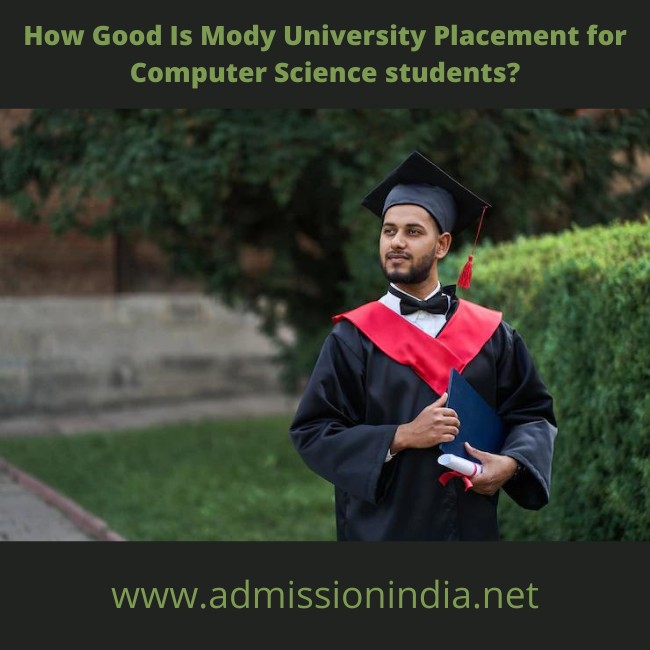 How Good Is Mody University Placement for Computer Science students?
Computer science is a competitive and a field that is constantly in demand. Computer science has indeed become a vital component of the modern world. A degree in this discipline will equip you with a thorough knowledge of theories and developing technology. This knowledge and expertise will enable you to develop innovative solutions to today's problems. However, does every Computer science student becomes an expert at their field? Probably not, but through Mody university placement you can fast track that journey through education and genuine expertise.
Mody University is a leading Women's university in India that offers numerous courses for bachelor, postgraduate, and Ph.D. courses. One of the most in-demand courses of Mody University is Computer Science. It is due to the boom of this course, that more and more students are applying to learn Computer Science from Mody University. However, what about the Mody university placement? Is Mody university placement for the Computer Science course good? Let's find out!
Is Mody university placement any good for the Computer Science course?
Mody University of Science and Technology's Career Development Center is in charge of campus recruitment. It is responsible for keeping a database of potential recruiters, coordinating placement efforts, and organizing training sessions to help students increase their general aptitude and communication skills.
Mody University is renowned for its teaching pedagogy and high return on investment. Over the previous three years, it has maintained a placement rate of over 80% in the Engineering field. The 2021 placement session at Mody University of Science and Technology finished with a 100 percent success rate for the Electronics and Communication Engineering (ECE) and Biomedical Engineering (BME) departments, followed by the Computer Science and Engineering department (CSE). The placement of Mody university was even at its best in the year 2020 as depicted below:
| | |
| --- | --- |
| Particulars | Stats/Salary |
| Highest salary package offered | Rs 22.37 LPA |
| Average salary package offered | Rs 4.75 LPA |
| Lowest salary package offered | Rs 3.50 LPA |
| Top recruiter at Mody university placement  | Accenture |
| Job offers released | 132 |
| Top companies  | IBM, Capgemini, Ericsson |
So, how are placements for Computer Science at Mody University?
Mody University of Science and Technology has excellent placements. The Institution has maintained a success record of over 80% for the past three years for Mody university placement. 132 students were selected by a variety of firms during the 2020 Mody University of Science and Technology placements.
Approximately 80% of students were placed in the year 2021 during Mody university placement. College provides all students with equal chances, and the majority of students are placed. There are opportunities for computer science students at the highest level. Mody University is indeed one of the top universities in India. Almost all students are placed with lucrative salaries.
This university focuses solely on placing students in the CSE department and has the highest placement rate for computer science majors. It has ties to a large number of fundamental companies, making it ideal for CSE.