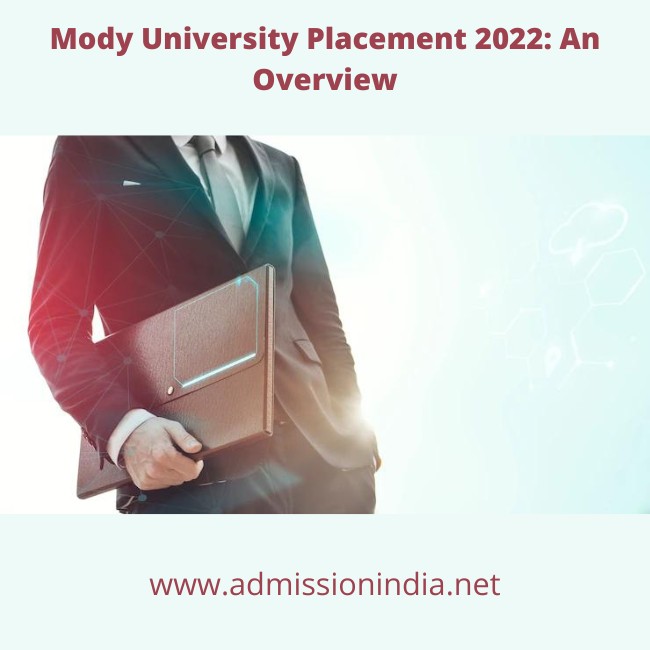 Mody University Placement 2022: An Overview
Mody is an esteemed University offering numerous courses to students all over India. You can choose from n number of courses and benefit from A-class facility, amazing amenities, and excellent placement. Are you thinking of applying to Mody University and wondering about Mody university placement process? 
The Career Development Center of Mody University welcomes recruiters to take part in the Campus Recruitment Program for the 2021-22 graduating class. Students and new applicants have hence started to look for information on Mody university placement policy and process. Head down for information on the same, or else Contact US and get in touch with admission experts NOW.
Mody University Placement Process
For more than a decade and a half, the Campus Recruitment Program of Mody University effectively served the needs of the major recruiters around India. Every year Mody university placement process starts in the University during the second-to-last semester of the Program.
There are various facilitation done by Mody University during the Mody university placement process to ensure a great experience for place students and placement companies.
Campus Visit Facilitation
The Institute encourages and enables early Pre-Placement Discussions, Presentations, etc. All Mody university placement and job notifications or any other information sent by recruiters are posted on Student bullets. 
The details of students who respond to Recruitment Notifications are sent to recruiters in an Excel spreadsheet. If necessary, electronic versions of the resumes are also sent through email. 
Campus Visit by Placement companies: 
The University ensures a seamless Mody university placement process via a proper process and excellent amenities  which include:
The auditorium of the Institute is well-equipped with audiovisual equipment for presentations. 

There is sufficient room for the written examinations included in the selection procedure. 

Large halls equipped with every amenity are reserved exclusively for Mody university placement process. 

Fully networked computer laboratories connected to a 20 Mbps network are given for online examinations.

 At any given time, more than 200 students can take the online exam. 

On request, accommodations are offered for guests to stay at the Institute's guesthouse, which is prepared to meet all of their needs. 

Upon request, the Institute also provides airport or train station pick-up and drop-off. 

All students registered with the Mody university placement and Career Development Centre through its registration procedure have access to the placement facility. 

Once the placement process has begun, students may attend the presentations given by various organizations and decide whether or not to participate in the particular selection procedure. 

There is no restriction on participating in several selection procedures, so long as their schedules do not overlap. 

The student may interview with as many firms as desired until the first offer is achieved. 

The corporation may publish a selection list or send out offer letters to confirm the offer. 

Once 85 percent of a certain branch's students have been placed, a second opportunity may be granted to other students. 

The CDC office is responsible for centrally receiving and distributing all offer letters, as well as sending acceptance letters to the firms. 
Who All Are Mody University In Association With During Placements? 
Mody university placement cell is in association with various popular and esteemed companies. Numerous value-added partnerships between Mody University and other enterprises have resulted in the establishment of specialized laboratories, the introduction of industry-recommended electives, internships, scholarships, and assistance for technical clubs. 
These relationships include Accenture, Microsoft, Ericsson, Infosys Technologies, IBM, etc.