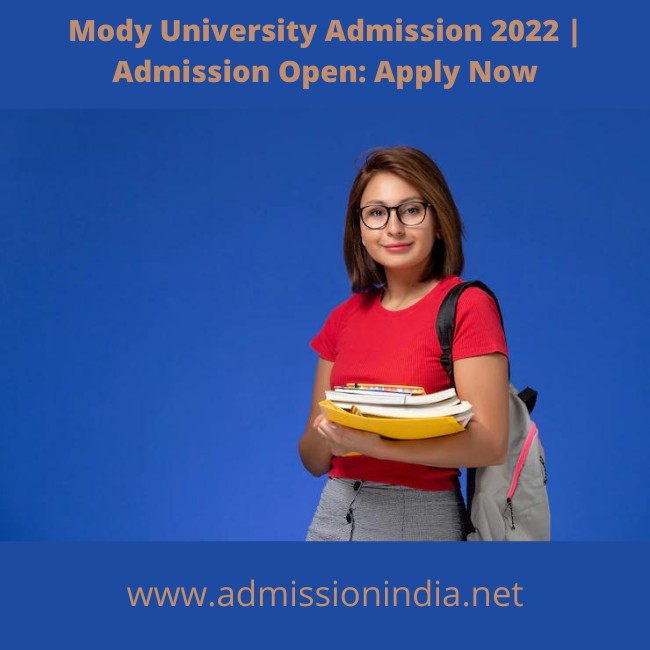 Mody University Admission 2022 | Admission Open: Apply Now
Admissions are now open for the prestigious Mody Univerity. Applicants can choose from a number of courses and fill out the application form for the same with ease online. However, some applicants may experience issues or may need assistance with Mody University Admission 2022 process. If you want to know about the right process for Mody University Admission 2022, then read the information offered below.
You will be easily able to apply to Mody University with ease using the guide below.
Mody University Admission 2022: Application process
Mody University is an esteemed university that offers numerous courses to students. You can choose from a list of courses and then follow a set of steps to apply to the university and submit the application. However, the application process can often be confusing. If you are unable to figure out the right Mody University Admission 2022 process of the submitting admission form, refer to the steps below:
Step 1: First of all register yourself on the official Mody University Website. This entails adding an email address and your name.

Step 2: Before proceeding any further, verify your email address to ensure you added the correct email account during the registration process.

Step 3: Now, visit the Mody University website, and select the course you want to pursue.

Step 4: Upon selection of the course, log in through your registered account and fill in the application form for the same. Make sure to review all the information twice before proceeding to the next step.

Step 5: Add in the payment method to pay the application form fee. Make sure to use a payment method compatible with the process.

Step 6: Once the payment for the application is made, review the application once again and submi the form on the Mody University website.
Instructions for Mody University Admission 2022
There are some instructions that any candidate interested in applying to Mody University must refer to. This instruction will come in handy during as well as after the application process.
Instructions are as follows:
The web registration is for admission to Mody University's programs.

The application fee for Mody University Admission 2022 is Non-refundable.

The email address provided at registration will be used for all communications until enrollment is complete. Changes to your email address will NOT be allowed under any circumstances.

Mody University provides a Query management system that shall be used to raise questions.

Applicants for Mody University Admission 2022 are highly encouraged to utilize the Mody University Query Management System instead of an email to obtain a prompt response.

Make sure to select the category of your inquiry before submitting it.

Applicants must register and confirm their email addresses for a seamless process.
Need Help?
Want to get enrolled in Mody University or require help with Mody University Admission 2022? Contact Admission India Today!
Admission India is here to offer you assistance in applying to your favorite university. We know about the right admission process, eligibility criteria, and everything in the middle. Simply get in touch with our experts for admission-related queries for any university or college in India.