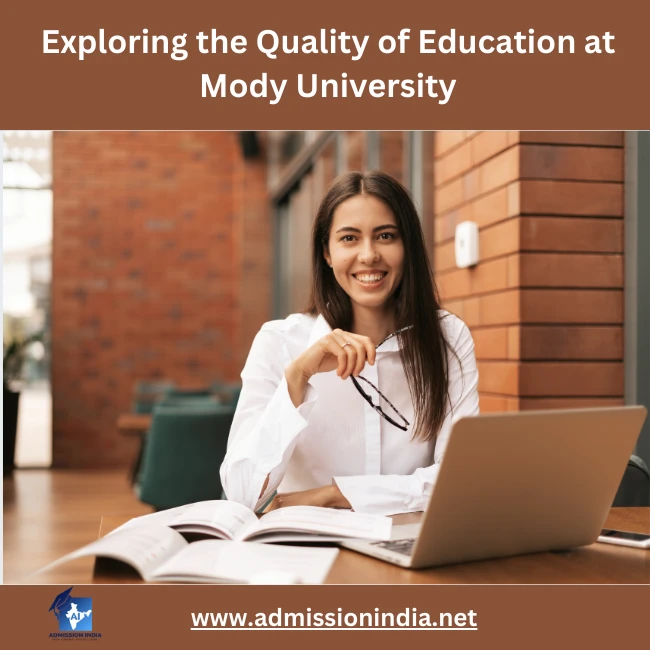 Exploring the Quality of Education at Mody University
Quality education is a fundamental aspect of personal and professional development. It empowers individuals with knowledge, skills, and values that prepare them for a successful future. In today's highly competitive world, choosing the right educational institution can be a daunting task. One such institution that has gained prominence in recent years is Mody University. In this blog post, we will explore the quality of education at Mody University and why it stands out as an excellent choice for students seeking a well-rounded education.
Mody University, located in the picturesque city of Laxmangarh, Rajasthan, India, is a multi-disciplinary university known for its commitment to academic excellence. Established in 1998, it has grown into a leading educational institution that offers a wide range of undergraduate, postgraduate, and doctoral programs across various fields, including engineering, business, science, arts, and humanities.
One of the key factors that contribute to the quality of education at Mody University is its dedicated faculty. The university prides itself on having a team of highly qualified and experienced professors who are not only experts in their respective fields but are also passionate about teaching. These educators go beyond delivering lectures; they engage with students, mentor them, and create a conducive learning environment. This personal touch fosters a strong teacher-student relationship, which is crucial for effective learning.
Mody University Importance
Mody University places great importance on research and innovation. The university's commitment to research is evident through its state-of-the-art laboratories and research centers. Students are encouraged to participate in research projects and gain hands-on experience, which enhances their critical thinking and problem-solving abilities. This focus on research not only benefits students but also contributes to the academic and scientific community as a whole.
In addition to academic excellence, Mody University places a strong emphasis on holistic development. The university offers a range of co-curricular and extracurricular activities that complement the academic curriculum. Students can participate in cultural events, sports, clubs, and community service, allowing them to develop a well-rounded personality. This holistic approach to education is crucial in shaping responsible and socially aware individuals.
Mody University's Global Perspective
Mody University also stands out for its global perspective. It fosters an international outlook by offering exchange programs, collaborations with foreign universities, and inviting renowned international faculty to engage with students. This exposure to different cultures and ideas prepares students to thrive in an increasingly globalized world.
The university's commitment to quality education is reflected in its excellent infrastructure. The campus is equipped with modern amenities, including well-stocked libraries, computer labs, sports facilities, and comfortable living arrangements. A well-maintained environment provides students with a conducive setting for learning and personal growth.
Strong Industry Connections
Mody University is also known for its strong industry connections. It has established partnerships with leading companies and organizations, providing students with opportunities for internships, placements, and real-world experiences. These connections play a vital role in preparing students for the job market, ensuring they are well-equipped to excel in their chosen fields.
In conclusion, Mody University Admission is a beacon of quality education in India. With its dedicated faculty, research-driven approach, holistic development initiatives, global perspective, excellent infrastructure, and industry connections, it provides students with a comprehensive and enriching educational experience. Choosing the right educational institution is a critical decision, and Mody University's commitment to excellence makes it a top choice for those seeking to embark on a path of personal and professional growth. It is a place where dreams are nurtured, knowledge is cultivated, and futures are shaped.