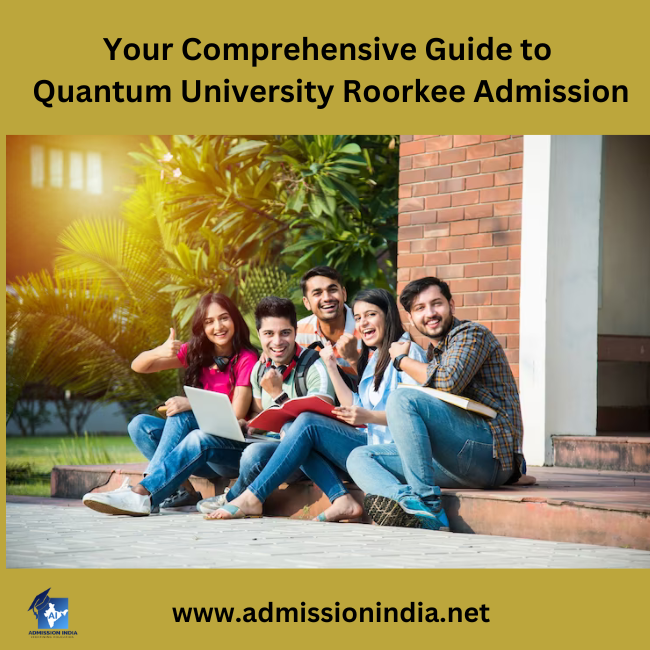 Your Comprehensive Guide to Quantum University Roorkee Admission
Nestled in the serene and picturesque city of Roorkee, Quantum University stands tall as a beacon of excellence in education. Established with a vision to redefine the paradigms of learning, Quantum University has consistently been at the forefront of innovation and academic brilliance. In this comprehensive guide, we will delve into the rich history, world-class campus facilities, diverse academic programs, and notable achievements that make Quantum University Roorkee a premier destination for higher education.
History
Quantum University Roorkee traces its roots to the Quantum Education Trust, a visionary initiative established in 2008. The university itself came into existence in 2017 under the aegis of the trust, with the mission to provide a transformative education experience that fosters holistic development and prepares students to excel in a dynamic global landscape.
Campus Facilities
The Quantum University campus is an architectural marvel spread over 25 acres of lush green land, offering an enriching and inspiring environment for learning. Some of the state-of-the-art facilities on campus include:
Academic Blocks:
Modern and well-equipped classrooms and lecture halls provide students with an interactive and engaging learning atmosphere.
Library:
The library boasts an extensive collection of books, journals, and digital resources, catering to the diverse academic needs of students and faculty.
Laboratories:
The university houses well-equipped laboratories for various disciplines, allowing students to gain hands-on experience and practical knowledge.
Hostel and Residential Facilities:
Comfortable and secure accommodation options are available on campus, ensuring a safe and nurturing environment for students.
Sports and Recreation:
Quantum University places a strong emphasis on sports and fitness, offering a range of indoor and outdoor sports facilities, including a gymnasium and swimming pool.
Cafeteria and Dining:
On-campus dining facilities serve nutritious meals to students and faculty, fostering a sense of community.
Academic Programs
Quantum University offers a diverse range of academic programs across various disciplines, ensuring that students have ample opportunities to explore their interests and passions. These programs are designed to foster critical thinking, innovation, and real-world skills. Some of the key academic offerings include:
Undergraduate Programs:
Quantum University offers a wide array of undergraduate courses in fields such as engineering, management, computer science, humanities, and more.
Postgraduate Programs:
The university provides opportunities for specialization and advanced study through its postgraduate programs, including MBA, M.Tech, and M.Sc.
Ph.D. Programs:
Quantum University encourages research and innovation through its Ph.D. programs, enabling students to contribute to cutting-edge knowledge in their respective fields.
International Collaborations:
The university collaborates with institutions worldwide, offering global exposure and exchange programs that broaden students' horizons.
Notable Achievements
Quantum University Roorkee has earned a reputation for excellence through its commitment to quality education and student success. Some notable achievements include:
Accreditation:
The university is accredited by the National Board of Accreditation (NBA) and recognized by the University Grants Commission (UGC), attesting to its high academic standards.
Industry Partnerships:
Quantum University has forged strong industry partnerships, providing students with opportunities for internships, placements, and industry exposure.
Research and Innovation:
Faculty and students at Quantum University actively engage in research and innovation, leading to publications, patents, and contributions to their respective fields.
Student Achievements:
Quantum University students have consistently excelled in various national and international competitions and have secured placements with renowned companies.
Conclusion
Quantum University Roorkee stands as a testament to the power of visionary leadership and a commitment to excellence in education. Its rich history, world-class campus facilities, diverse academic programs, and notable achievements make it a top choice for students seeking a transformative educational experience. If you aspire to embark on a journey of holistic growth and academic excellence, Quantum University Roorkee could be your quantum leap in education.