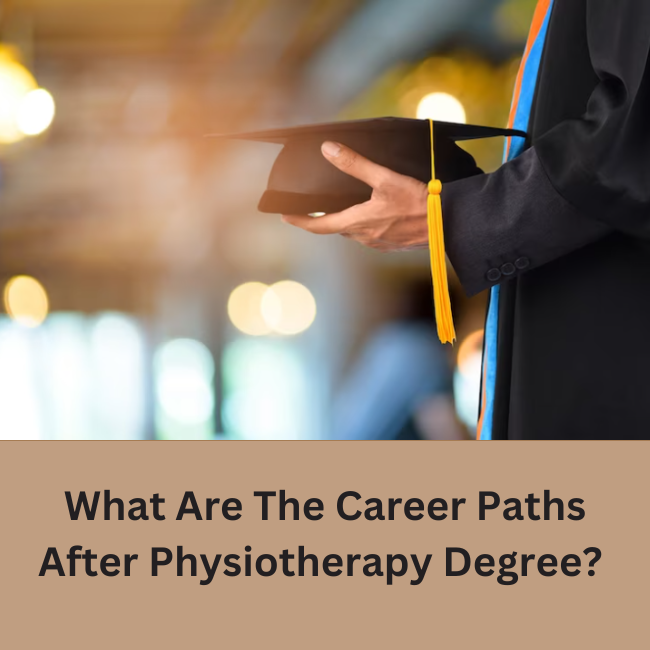 What Are The Career Paths After Physiotherapy Degree?
Physiotherapy, also known as physical therapy, is a healthcare profession that focuses on the prevention, treatment, and management of physical disabilities, injuries, and diseases. Physiotherapists work with people of all ages and abilities, from newborns to the elderly, to improve their physical function, mobility, and quality of life.
Physiotherapy is a diverse and challenging field that offers a wide range of career options. Here are some of the most popular career paths after a physiotherapy degree:
Clinical Physiotherapist:
Clinical physiotherapists work in hospitals, clinics, and rehabilitation centers. They assess, diagnose, and treat a wide range of physical conditions, including musculoskeletal, neurological, cardiovascular, and respiratory disorders. They use a variety of techniques and interventions, such as exercise, manual therapy, electrotherapy, and assistive devices, to help patients regain their strength, mobility, and independence.
Sports Physiotherapist:
Sports physiotherapists work with athletes and sports teams to prevent, treat, and manage sports-related injuries and conditions. They use a combination of exercise, manual therapy, and other techniques to help athletes recover from injuries, improve their performance, and prevent future injuries.
Pediatric Physiotherapist:
Pediatric physiotherapists work with infants, children, and adolescents who have physical disabilities, developmental delays, or neurological conditions. They help children improve their physical function, motor skills, and independence through a range of interventions, such as play-based therapy, exercise, and adaptive equipment.
Women's Health Physiotherapist:
Women's health physiotherapists specialize in the assessment and treatment of physical conditions related to pregnancy, childbirth, and postpartum recovery. They also treat pelvic floor dysfunction, such as urinary incontinence and prolapse, as well as other women's health issues, such as osteoporosis and breast cancer.
Researcher:
Physiotherapy researchers conduct studies and experiments to advance the field of physiotherapy and improve patient outcomes. They may work in academic settings, research institutions, or healthcare organizations, and collaborate with other healthcare professionals to develop new treatments, interventions, and technologies.
Educator:
Physiotherapy educators teach and mentor students in physiotherapy programs, and develop curriculum and educational materials. They may also conduct research and contribute to the development of the profession through professional organizations and associations.
Consultant:
Physiotherapy consultants provide expert advice and guidance to other healthcare professionals, organizations, and individuals. They may specialize in a particular area of physiotherapy, such as sports medicine, orthopedics, or neurological rehabilitation, and work independently or as part of a multidisciplinary team.
In conclusion, the career options in physiotherapy are diverse and rewarding. Whether you want to work with patients directly, conduct research, teach, or consult, there are many opportunities to make a positive impact on people's lives and contribute to the advancement of the field. With the growing demand for physiotherapy services, there has never been a better time to pursue a career in this field.
If you want to make a great career at a reputed college/university, contact AdmissionIndia. We can help you to get through to top universities/colleges in India and overseas. Leave us a message regarding UPES registration 2023, Uttaranchal University application 2023, MODY University fee, RIT Roorkee Application, Sushant University placement, Uttaranchal University registration, etc.