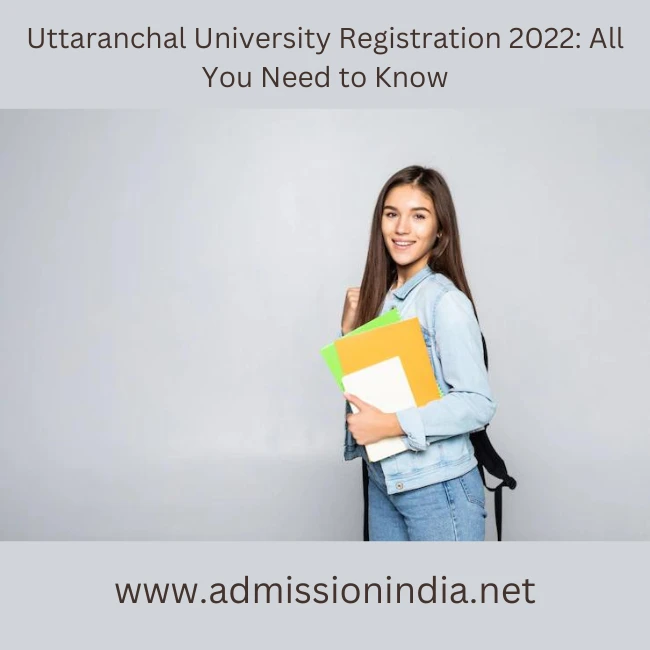 Uttaranchal University Registration 2022: All You Need to Know
Admission to Uttaranchal Institution in 2022: Uttaranchal University is regarded as a state university educating students in various subjects. At several levels, including UG, PG, and PhD, education in multiple specializations is provided; each program has a different qualifying requirement.
The supplied information may be beneficial for those trying to acquire admission. The article below talks about application form deadlines, how to apply, the selection process, Uttaranchal University Eligibility, and other more significant aspects of the university.
Exam for Admission to Uttaranchal University 2022 Entrance Examinations (EE) are held by Uttaranchal University (UU) to grant admission for undergraduate and graduate degrees. This test covers subjects from the BTech, MTech, MSc, LLB, BCA, and other disciplines.
Candidates who want to pursue graduation, postgraduate study, or a PhD might strive for this test, which is held on an institutional level once a year. This examination is known as UUEE since Uttaranchal University administers it (UU).
The announcement is posted on UU's official website every year at the right time. After the notification, candidates may submit their applications.
The university will compile a merit list for each subject. The Uttaranchal university registration 2022 will be determined by the candidates' grades in the 12th grade and their exam results at the national level. For B.Tech candidates, a separate merit list would be created based on JEE Main rank and marks. A merit list for each qualifying applicant will be produced and available on the website. Candidates who are selected through a merit list also require counselling.
Admission Process
The Uttaranchal university registration 2022 will comprise filling out an application and paying a fee. Following the submission of the application form, the admissions process will begin. The main deciding element in the admissions process will be the candidates' performance and their marks in 12th grade.
JEEP, GATE, JEE Main, CAT, and other national-level test results will be considered for admission. Final admission will be granted to candidates upon completing all required steps, document verification, and fee payment.
The qualified candidates need to complete all admission-related processes.
Results
On its website, the institution publishes information about student admission allocation. Through a raking subscription, those eagerly awaiting to learn the outcome of the UUEE Admission Procedure may stay up to date.
Additionally, Uttaranchal University provides the result date and the direct link, which can be used to read the result quickly and conveniently after signing in.
Counselling
Beginning in July 2022, applicants can engage in the Uttaranchal University 2022 counselling procedure. All qualified candidates must engage in the counselling process to be considered, and counselling will be done offline.
Candidates must pay the counselling fees to participate in the counselling session. Only when the necessary documents have been verified will candidates be admitted.