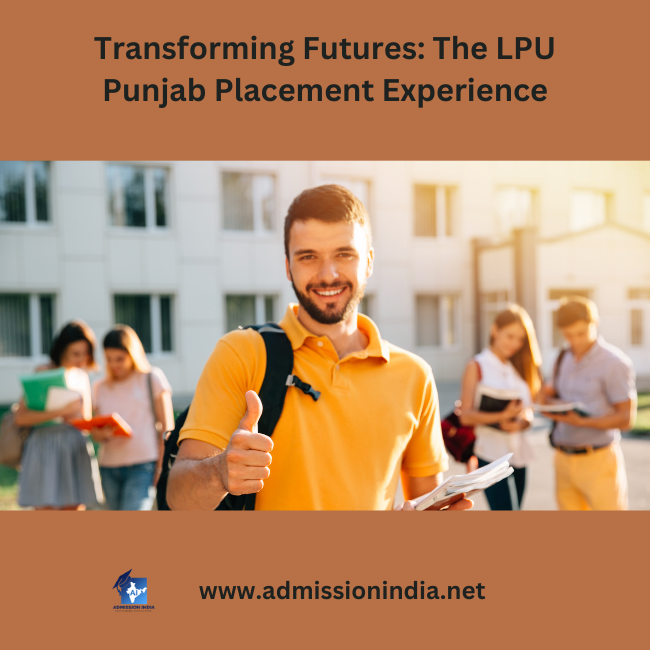 Transforming Futures: The LPU Punjab Placement Experience
In today's highly competitive job market, the importance of quality education and effective LPU Punjab Placement services cannot be overstated. One institution that has been making significant strides in this regard is Lovely Professional University (LPU) in Punjab, India. With a commitment to transforming the futures of its students, LPU has established itself as a hub for academic excellence and unparalleled placement experiences.
Academic Excellence: The Foundation for Success
LPU's journey towards becoming a placement powerhouse starts with its commitment to academic excellence. The university offers a wide range of undergraduate and postgraduate programs, catering to diverse fields of study. The well-qualified faculty members, state-of-the-art infrastructure, and a focus on practical learning prepare students to excel in their chosen fields.
LPU believes in nurturing not just bookish knowledge but also in honing the practical skills and soft skills that are vital for success in the professional world. The curriculum is designed to make students industry-ready, and a plethora of co-curricular and extracurricular activities ensures a holistic development that extends beyond the classroom.
The LPU Training and Placement Cell: Bridging the Gap
LPU's success in transforming futures is largely attributed to its dedicated Training and Placement Cell. This department acts as a bridge between students and potential employers. Their mission is to ensure that every student not only secures a job but finds the right career path that aligns with their aspirations and qualifications.
The cell organizes various skill development workshops, career counseling sessions, and mock interviews, helping students build a strong foundation in professional development. These initiatives prepare students to face the challenges of the corporate world with confidence and competence.
Impressive Placement Records
One of the most significant markers of LPU's success is its remarkable placement records. The university has consistently achieved an impressive placement rate, with students being recruited by some of the top companies in the world. This includes both national and international organizations, thereby offering students a truly global platform for their careers.
LPU graduates have entered diverse industries such as IT, engineering, management, healthcare, and more. The university's expansive network of over 600+ corporate tie-ups ensures that students have a plethora of opportunities to choose from. This diversity is reflective of LPU's commitment to offering a well-rounded education that opens doors to various career paths.
Noteworthy Alumni Success Stories
The success of any educational institution can be gauged by the accomplishments of its alumni. LPU boasts an impressive list of alumni who have gone on to achieve great success in their respective fields. From entrepreneurs and researchers to corporate leaders and government officials, LPU alumni have made their mark worldwide.
These stories serve as inspiration for current students and affirm LPU's dedication to transforming futures. The close-knit alumni network also provides a valuable resource for current students in terms of mentorship and career guidance.
Beyond Academics: A Wholesome Experience
LPU believes in the holistic development of its students, and the campus environment reflects this ethos. The university provides a plethora of opportunities for students to engage in sports, cultural activities, and social service. These experiences not only enrich students' lives but also make them more well-rounded individuals, appealing to prospective employers.
In conclusion, the Lovely Professional University in Punjab, India, is a beacon of hope for students seeking an education that not only empowers them academically but also ensures a bright future through effective career placement services. LPU's commitment to academic excellence, coupled with its exemplary Training and Placement Cell, leads to remarkable placement records and the success stories of its alumni. LPU transforms futures by providing students with the skills, knowledge, and opportunities they need to succeed in the professional world.