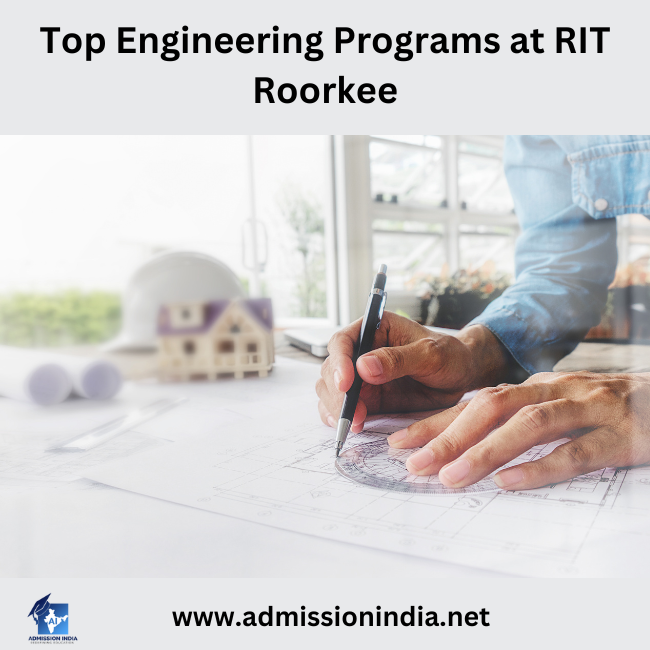 Top Engineering Programs at RIT Roorkee
When it comes to pursuing a career in engineering, choosing the right institution is paramount. One institution that stands out in the world of engineering education is the Roorkee Institute of Technology, often abbreviated as RIT Roorkee. Situated in the picturesque town of Roorkee, Uttarakhand, India, RIT Roorkee has established itself as a hub for engineering excellence. In this blog post, we will delve into the top engineering programs offered by RIT Roorkee, showcasing why it's a premier choice for aspiring engineers.
Civil Engineering:
RIT Roorkee's Civil Engineering program is renowned for its comprehensive curriculum and experienced faculty. The program covers a wide range of subjects, including structural engineering, transportation engineering, and environmental engineering. With state-of-the-art laboratories and practical exposure, students develop a strong foundation in civil engineering principles. RIT Roorkee's collaborations with industry giants provide students with internships and placement opportunities that set them on the path to success.
Mechanical Engineering:
The Mechanical Engineering program at RIT Roorkee equips students with the skills needed to excel in the field of machinery, manufacturing, and automation. The curriculum integrates theory with hands-on experience, making graduates industry-ready. RIT Roorkee's well-equipped workshops and research centers give students the opportunity to work on cutting-edge projects, contributing to innovation in the field.
Computer Science and Engineering:
In the era of technology, RIT Roorkee admission for the Computer Science and Engineering program stands out. With a curriculum that evolves with the rapidly changing tech landscape, students are well-prepared for careers in software development, artificial intelligence, and data science. The campus hosts coding competitions, hackathons, and tech talks, fostering a culture of innovation and entrepreneurship.
Electrical Engineering:
RIT Roorkee's Electrical Engineering program focuses on electrical systems, electronics, and power generation. With well-equipped labs and experienced faculty, students gain a deep understanding of electrical engineering principles. The program also emphasizes renewable energy sources, preparing students to contribute to a sustainable future.
Electronics and Communication Engineering:
This program is tailored for students passionate about communication systems, embedded systems, and digital electronics. RIT Roorkee's ties with industry leaders enable students to work on projects related to wireless communication and IoT technology. The program's multidisciplinary approach ensures that graduates are versatile and well-suited for diverse career paths.
Biotechnology:
RIT Roorkee's Biotechnology program combines biology and technology to address critical challenges in healthcare, agriculture, and the environment. Students engage in cutting-edge research and gain practical experience in laboratories equipped with advanced biotech instruments. The program opens doors to careers in pharmaceuticals, genetic engineering, and environmental science.
Agricultural Engineering:
With a focus on sustainable agriculture, RIT Roorkee's Agricultural Engineering program trains students to develop innovative solutions for the agricultural sector. From precision farming to irrigation systems, students work on projects that contribute to food security and environmental conservation.
Chemical Engineering:
RIT Roorkee's Chemical Engineering program emphasizes the application of chemical principles in industries like petrochemicals, pharmaceuticals, and environmental protection. The program's strong industry connections provide students with internships and research opportunities, setting them on a path to become leaders in their field.
Conclusion
RIT Roorkee's commitment to academic excellence, state-of-the-art infrastructure, and industry collaborations make it a top choice for engineering aspirants. Whether you aspire to build skyscrapers, design cutting-edge software, or revolutionize the biotech industry, RIT Roorkee has the right program to fuel your ambitions. With a track record of producing successful engineers and innovators, RIT Roorkee stands as a testament to the transformative power of quality education. If you're looking to embark on an engineering journey, consider RIT Roorkee as your launchpad to a brilliant future.