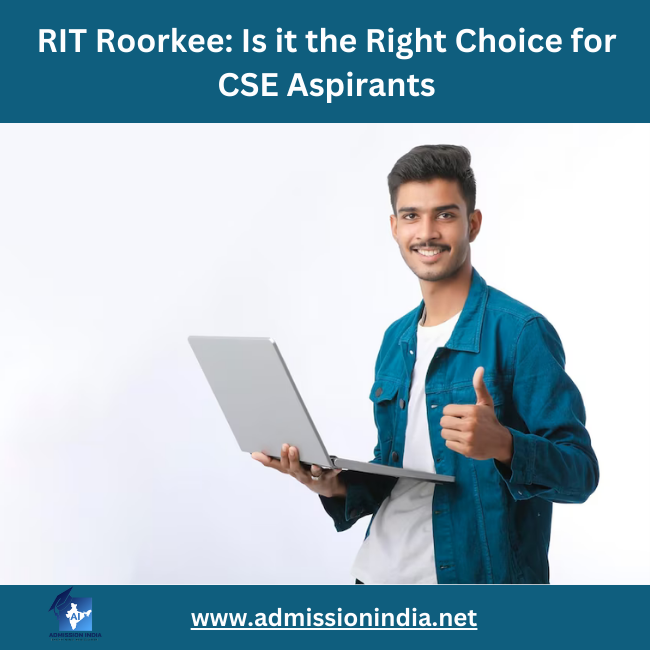 RIT Roorkee: Is it the Right Choice for CSE Aspirants
Absolutely, RIT Roorkee is a commendable choice for Computer Science and Engineering (CSE) aspirants looking to embark on a journey towards a successful career in technology and innovation. Nestled in the serene foothills of the Himalayas, RIT Roorkee offers an enriching academic environment coupled with excellent infrastructure, faculty expertise, and numerous opportunities that make it an ideal destination for those passionate about CSE.
Academic Excellence:
RIT Roorkee prides itself on its rigorous academic curriculum tailored to keep pace with the rapidly evolving field of computer science. The CSE program is designed to provide students with a strong foundation in theoretical concepts and hands-on practical experience. The curriculum includes a comprehensive range of subjects such as Data Structures, Algorithms, Artificial Intelligence, Machine Learning, and more, ensuring a holistic learning experience.
Faculty Expertise:
One of the pivotal factors contributing to RIT Roorkee's reputation is its distinguished faculty. The faculty members are experts in their respective domains, holding vast industry experience and academic qualifications from prestigious institutions. Their guidance and mentorship help students delve deeper into the subject matter and foster critical thinking, thereby preparing them for the challenges of the tech industry.
Infrastructure and Resources:
RIT Roorkee boasts state-of-the-art infrastructure with modern laboratories equipped with the latest software and tools essential for CSE students. The campus provides a conducive environment for learning, research, and innovation. Additionally, access to a well-stocked library, online journals, and research databases empowers students to stay updated with the latest advancements in the field.
Industry Interface:
The institute understands the significance of practical exposure in shaping a student's career. Hence, RIT Roorkee facilitates various industry interactions, workshops, seminars, and internships in collaboration with leading tech companies. These opportunities enable students to apply theoretical knowledge in real-world scenarios, gain practical insights, and build industry connections.
Placement Opportunities:
RIT Roorkee has an impressive track record of placements, with numerous renowned companies visiting the campus for recruitment drives. The strong industry connections and the skillset nurtured during the course ensure that CSE graduates from RIT Roorkee are well-prepared and sought after by top-tier companies.
Holistic Development:
Beyond academics, RIT Roorkee emphasizes holistic development. The institute encourages participation in extracurricular activities, clubs, and technical societies, fostering leadership, teamwork, and overall personality development among students.
Alumni Network:
The alumni network of RIT Roorkee is extensive and supportive. Alumni often contribute by sharing their industry experiences, providing guidance, and even assisting in placements, thereby creating a strong support system for current students.
In conclusion, RIT Roorkee Admission stands as a beacon for CSE aspirants seeking quality education, holistic development, and promising career prospects. The blend of academic excellence, industry exposure, and a nurturing environment makes it an optimal choice for those passionate about excelling in the dynamic field of Computer Science and Engineering. Choosing RIT Roorkee can undoubtedly pave the way for a fulfilling and successful career in technology.