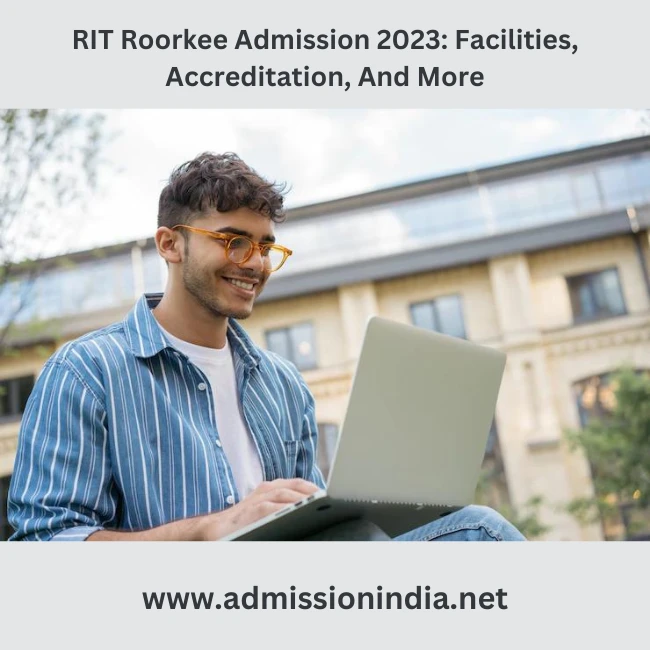 RIT Roorkee Admission 2023: Facilities, Accreditation, And More
RIT College Roorkee has risen to prominence as the ideal platform for aspirants interested in science, technology, education, and management courses. Students worldwide show interest in the college, but would you apply for RIT Roorkee admission in 2023? Let's find out the facilities offered by RIT Roorkee, its affiliations, and accreditations to understand if RIT Roorkee admission 2023 is the right step for you.
RIT Roorkee: 5th Most Promising Engineering College Of India
Roorkee Institute of Technology boasts an enchanting, expansive campus that is a magnet for international students. According to research by India Today, RIT Roorkee ranks fifth as the "Most Promising Engineering College in India." The institute, which was founded under the auspices of the Himalayan Charitable Trust, is working diligently to develop more refined learning methodologies.
The college accepts students from India, Nepal, Bhutan, and African nations, creating a cosmopolitan and multilingual environment. RIT Roorkee is one of the first colleges in Uttarakhand to have an Apple Lab IOS Development Centre, making it an excellent choice for many.
The institute values quality education and employs well-known and seasoned faculty members. In addition, all the campus facilities are top-notch to ensure that students benefit from these superior amenities at all times. It indeed makes it the perfect decision for many to apply for RIT Roorkee admission in 2023.
What Facilities at Offered At Roorkee Institute of Technology (RIT)?
The college's excellent infrastructure fosters a conducive study environment. RIT Roorkee has tailored its infrastructure to meet the requirements of its students, which includes the following:
Auditorium Canteen with discount privileges
Health Club Medical Center Library
Smart Classes
Clubs for Sports with Diverse Activities
Hostel and Canteen
Considering the above-mentioned amenities, you will be making the right decision to apply for RIT Roorkee admission in 2023.
RIT Roorkee Accreditation and Affiliations
The affiliations and accreditations of the Roorkee Institute of Technology are genuine. UTU has granted accreditation to AICTE-approved courses. Additionally, the university is approved by the Uttarakhand Technical University (Govt. of Uttarakhand), Dehradun, Uttarakhand.
The Uttarakhand Board of Technical Education (Gov. Uttarakhand), Roorkee, recognises diploma programmes offered at RIT Roorkee. Furthermore, Hemwati Nanadan Bahunguna Garhwal University (A Central University), Srinagar (Garhwal), Uttarakhand, recognises B.Sc. (Agri) and B.Sc courses offered at RIT.
These affiliations and accreditations must be enough to win your confidence to apply for RIT Roorkee admission in 2023, right?
What Is The Application Process For RIT Roorkee Admission 2023?
RIT Roorkee offers degrees for UG, PG, and diploma programs. So, refer to the info below if you need info on RIT Roorkee Admission 2023 for the same.
Application Process Of RIT Roorkee Admission 2023 for BTech & BSc
RIT offers B.Tech. and B.Sc. programmes with a variety of concentrations. For B.Tech admission, aspirants must have a valid score on the CBSE-administered JEE Main test. B.Sc. applicants will be selected based on their performance on the qualifying exam. Students must have completed 12th-grade science to be eligible for these courses.
Application Process Of RIT Roorkee Admission 2023 For BEd Admission
The college offers an education bachelor's degree associated with HNB Garhwal University. For admission, students must possess a bachelor's degree in any field with a minimum of 50 per cent. Admission to RIT will be based on performance in the qualifying test or immediately on the availability of seats.
Application Process Of RIT Roorkee Admission 2023 For MTech
RIT Roorkee offers M.Tech. at the graduate level. It is a two-year curriculum in the fields of Structural and construction engineering, electrical engineering, and production engineering. Admission will be given on the basis of a B.Tech grade and a valid GATE 2022 score.
A student may still be admitted to the college without a GATE score. However, seats under direct admissions are limited, so you should submit your application as soon as possible to ensure prompt admission.
Application Process Of RIT Roorkee Admission 2023 For MBA Admission
The institute provides MBA and MCA programmes with a variety of specialisations. Additionally, the institute offers MCA lateral courses to its current candidates. Admission to RIT is based on the most recent qualifying examination results.
MCA lateral admission is granted based on first-year MCA examination scores. One may also apply for the MBA examination with a valid CAT/MAT or similar score. However, admissions are also granted after a brief interview.
Application Process Of RIT Roorkee Admission 2023 For Diploma Programmes
RIT Roorkee Diploma Admission is made based on the 10th-grade qualifying exams. Diploma courses in the science stream, such as civil engineering, mechanical engineering, and electrical engineering, might be inquired about beforehand. Students must verify that they meet the prerequisite requirements when applying for a course.