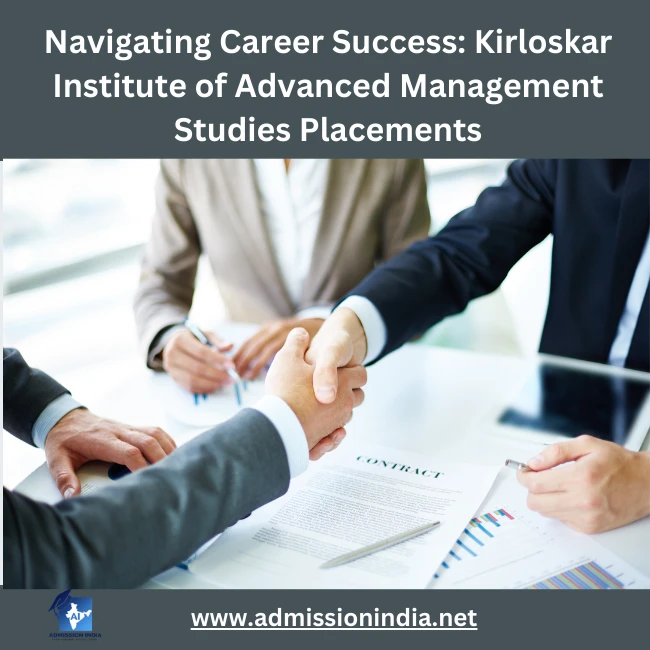 Navigating Career Success: Kirloskar Institute of Advanced Management Studies Placements
Embarking on a successful career journey often starts with choosing the right institution for your management education. Kirloskar Institute of Advanced Management Studies (KIAMS) is one such institution that has garnered a reputation for providing an excellent platform for students to launch their careers. In this blog post, we will take a closer look at KIAMS and its remarkable placements record, illustrating how it serves as a catalyst for career success.
A Trusted Name in Management Education: KIAMS
Established in 1991, KIAMS has emerged as a prominent player in the field of management education in India. With its sprawling campuses in Harihar and Pune, the institute offers an ideal environment for students to nurture their leadership and management skills. KIAMS is renowned for its innovative and industry-relevant curriculum, world-class faculty, and holistic approach to grooming the leaders of tomorrow.
Corporate Interface: Bridging the Gap Between Academia and Industry
One of the standout features of KIAMS is its strong corporate interface. The institute maintains close ties with various industries and corporate partners, ensuring that the curriculum remains up-to-date and aligned with the evolving needs of the business world. This connection with industry leaders facilitates a seamless transition for students from the classroom to the corporate world.
Impressive Placements Records
KIAMS takes immense pride in its consistent track record of stellar placements. Over the years, the institute has forged strong connections with leading companies in diverse sectors, resulting in a wide range of placement opportunities for its graduates. From renowned multinational corporations to promising startups, KIAMS students find themselves at the crossroads of diverse career avenues.
The placement process at KIAMS is meticulously designed to maximize students' chances of success. It includes various components like pre-placement talks, group discussions, mock interviews, and more. These activities help students hone their interview and communication skills, preparing them for the real-world challenges of the job market.
Career Development Services at KIAMS
KIAMS also provides a robust infrastructure for career development, including a dedicated Career Development Center (CDC). The CDC assists students in their job search process, helping them create impactful resumes, develop interview strategies, and identify their career goals. This additional support ensures that KIAMS students are well-prepared and confident when they step into the competitive job market.
Notable Recruiters and Success Stories
KIAMS alumni can be found in prestigious positions across the business world. Some of the prominent recruiters who have shown a consistent interest in hiring KIAMS graduates include names like Deloitte, HDFC Bank, ICICI Bank, Infosys, TCS, and many more. The institute's strong industry connections have paved the way for students to embark on fulfilling careers in sectors such as finance, marketing, consulting, and operations. Several success stories stand as a testament to KIAMS' commitment to nurturing talent. From students securing leadership roles in top organizations to launching their startups, KIAMS alumni have continuously made their mark in the business world.
Conclusion
In conclusion, choosing the right institution for your management education is a crucial step in navigating your career success. Kirloskar Institute of Advanced Management Studies (KIAMS) has established itself as a trusted name in management education, offering an industry-relevant curriculum, a strong corporate interface, and impressive placement records. KIAMS not only opens doors to a wide array of career opportunities but also equips students with the skills and knowledge to excel in their chosen field. So, if you're looking for an institution that can be your launching pad to a successful career, KIAMS is undoubtedly a name to consider.