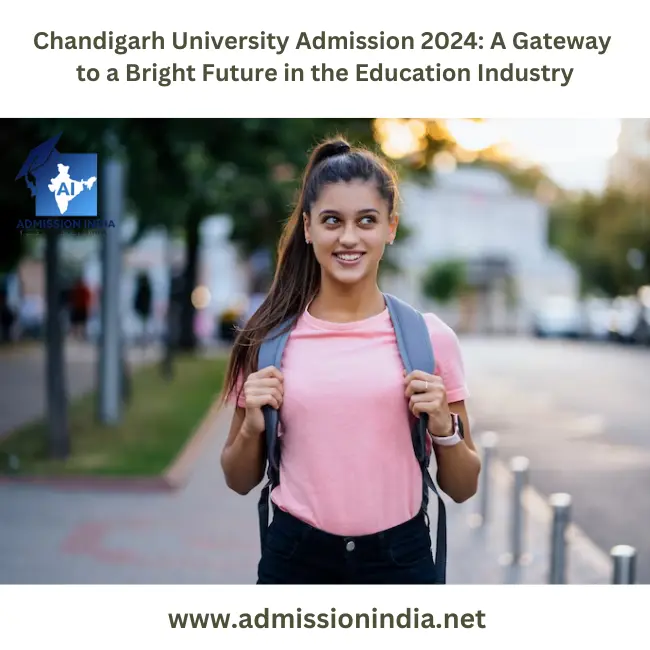 Chandigarh University Admission 2024: A Gateway to a Bright Future in the Education Industry
Introduction:
The education industry plays a pivotal role in shaping the future of individuals and societies. As the demand for quality education continues to soar, universities strive to offer exceptional learning opportunities to students. Chandigarh University, with its unwavering commitment to excellence, emerges as a leading institution that opens doors to a bright future for aspiring students. In this blog, we will explore the highlights of Chandigarh University and its admission process for the year 2024, providing valuable insights for prospective students and parents alike.
Chandigarh University: A Beacon of Excellence:
Located in the heart of Punjab, Chandigarh University stands tall as an epitome of excellence in education. Established with a vision to transform lives through education, the university boasts state-of-the-art facilities, experienced faculty, and a dynamic learning environment. Recognized by the University Grants Commission (UGC), Chandigarh University offers a wide range of undergraduate and postgraduate programs across diverse disciplines, ensuring students can pursue their passions and unlock their full potential.
Diverse Range of Programs:
Chandigarh University takes pride in offering a comprehensive array of programs, catering to the varying interests and career aspirations of students. From engineering, business management, and computer science to humanities, fine arts, and law, the university ensures that students have access to the best educational opportunities to build a strong foundation for their future endeavors.
Admission 2024: A Golden Opportunity:
For students aspiring to join Chandigarh University Admission 2024, the admission process presents a golden opportunity to realize their dreams. The university follows a straightforward and transparent admission process, making it accessible to students from diverse backgrounds.
Online Application: Prospective students can visit the official Chandigarh University website and fill out the online application form. This simple process requires basic personal and academic details, making it convenient for applicants.
Entrance Examinations: Depending on the chosen program, Chandigarh University conducts entrance examinations to assess the candidates' aptitude and potential. These examinations are designed to ensure that the university admits students who possess the necessary skills and knowledge for their chosen fields.
Personal Interview: For some programs, a personal interview may be conducted to evaluate the students' communication skills, problem-solving abilities, and passion for their chosen field.
Merit-Based Admissions: Chandigarh University believes in rewarding merit and talent. Admission decisions are primarily based on the candidates' academic performance, entrance examination scores, and performance in the personal interview (if applicable).
Counseling and Guidance: The university offers counseling and guidance sessions to help students make informed decisions about their academic journey. Dedicated counselors assist students in choosing the right program based on their interests, aptitude, and career goals.
Scholarship Opportunities: Understanding the financial aspect of education, Chandigarh University offers a range of scholarship opportunities to deserving students. Meritorious students with outstanding academic records have the chance to avail of scholarships, enabling them to pursue their education without financial constraints. These scholarships are a testament to the university's commitment to nurturing talent and promoting excellence in education.
Conclusion:
Chandigarh University stands as a beacon of excellence in the education industry, providing students with a gateway to a bright and promising future. With its diverse range of programs, state-of-the-art facilities, and dedicated faculty, the university ensures a holistic learning experience that prepares students to thrive in a competitive world. The admission process for 2024 offers a golden opportunity for aspiring students to join this prestigious institution and embark on a journey of knowledge, growth, and success. If you dream of building a rewarding career and making a difference in the world, Chandigarh University is the ideal destination to turn your dreams into reality.