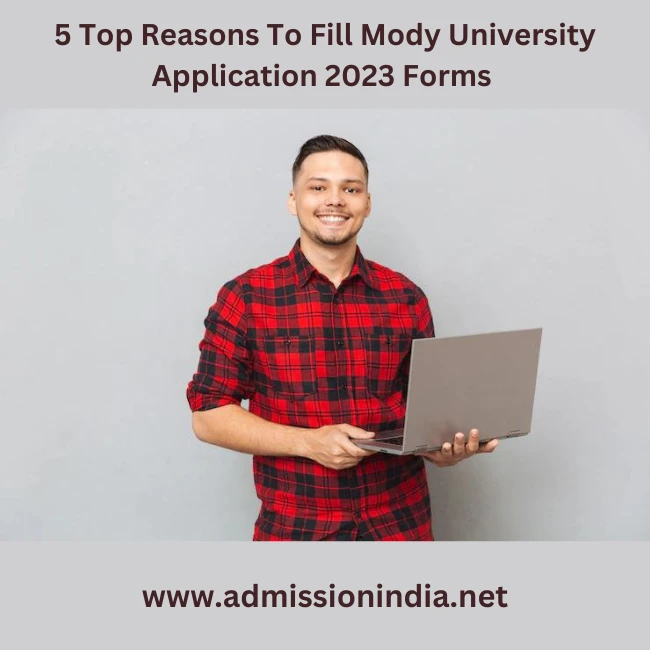 5 Top Reasons To Fill Mody University Application 2023 Forms
Are you appearing for the 12th standard exams in 2022-23 and looking for the best colleges to enrol in 2023? Mody University may be at the top of your list for several reasons. If not, then below are the top five reasons why you should place Mody University at the top of your college admission list and apply for Mody university application 2023 now.
Why Should You Fill Mody university application 2023 Form Now?
Mody University is a prominent women's University that offers various undergraduate and postgraduate courses. Based in Rajasthan, Mody University is a Private University which was founded in the year 2013. This prestigious institution has made a name for itself since its founding due to various amenities, educational benefits and more.
Below are the top 5 reasons why you must fill out the Mody university application 2023 form for a better future.
   1. Women Only Engineering University
Mody University is the Only Women's University Engineering university that admits only women engineering candidates. The University was founded by industrialist and philanthropist Shri Rajendra Prasad Mody, who had a vision for it to become one of the country's leading educational institutions for women. The University has carved itself a niche in Women's Education and Empowerment on national and international stages. ASSOCHAM, The Education Post, and KCCI 2020 have granted the University the title of "Best Women's University in India and Asia-Pacific." In 2019, the Centre for Education Growth and Research (CEGR) honoured the "Outstanding University in Rajasthan."
    2. Get Wonderful Scholarships
Mody University offers its students a chance to waive a part of the tuition fee. A candidate must apply for the MEET admission exam administered by Mody University to qualify for and receive a scholarship. The University has established multiple scholarship tiers, allowing students to get a scholarship based on the tier they fall into. When you apply for the admission at university by filling Mody university application 2023 form and giving the MEET admission exam, the following percentage of the tuition fee may be waived off depending on your MEET score:
The applicant with a rank between 1 and 50 would receive a 70% tuition waiver.
Rank between 51-100, 101-250, and 251-300 may earn a 50%, 30% to 20% waiver on the tuition cost.
Rank holders between 301-400 may be entitled to get a 10% tuition price waiver.
   3. Impressive Opportunities To enrol in Internationally Accredited and Collaborated Programmes.
Mody University allows students to enrol in one of the modern engineering programmes offered through National and International cooperation and accreditation with industry giant IBM, ABET, and numerous overseas universities.
In academic collaboration with IBM, a Bachelor of Technology in Computer Science Engineering is also available, with specialisations in Big Data Analytics, cloud computing, artificial intelligence and deep learning, information security, and the internet of things.
  4. Excellent Career Opportunity and Assistance
Students can gain admission to the School of Engineering and Technology based on their MEET 2020 scores. The School of Engineering and Technology at Modi Univesity has six departments, including:
Computer Science and Engineering,
Electronics and Communications Engineering,
Biomedical engineering,
Electrical Engineering,
Mechanical Engineering
Nuclear Engineering.
Each of these divisions offers unique programmes to meet industrial needs. These programmes provide job prospects in several fields relevant to their subject matter. The job development unit guarantees that each student receives enough placement support. These excellent opportunities are indeed the reason to head to Mody university's website and fill out the Mody university application 2023 now.
5. Top Notch University Facilities
Mody University of Science and Technology offers top-of-the-game amenities to students that study are the college. These include:
High-tech Computer Labs
Clean And Hygienic Cafeteria
A huge Library
Auditorium To Accommodate Large audience
Spacious Hostel And Hostel Rooms
Fully Functional Gym
Enclosed Laboratory
Medical Facilities
Perfect Classrooms
Comprehensive Security
These amenities are indeed the reason to fill the Mody university application 2023 form right now.
Do You Need Help With Mody University Application 2023 Form?
Get in touch with admission experts at Admission India and apply to Mody University of Science and Technology today. We assist kids in filling out the application forms, collecting the necessary documents, and even empowering them to appear for the Mody University entrance test without any fuss.
Contact the leading experts for all your admission needs at Admission India today!